MUMBAI: India's scorecard showed a decent improvement in intellectual property (IP) filings with higher applications in patents (nearly 6%) and trademarks (over 15%), driven by those filed in the pharmaceuticals sector in 2020.
Globally, IP filings — including patents, trademarks and designs — rebounded in 2020, indicating the resilience of human innovation despite dire global and economic turmoil during the Covid pandemic, latest data from World Intellectual Property Organization (WIPO) showed.
In contrast, during the global financial crisis of 2008-2009, both patent and trademark filing activity had contracted sharply.
Globally, trademark filing activity rose by 13.7%, patents 1.6% and designs by 2%, according to the World Intellectual Property Indicators report, which compiled new data from 150 national and regional authorities.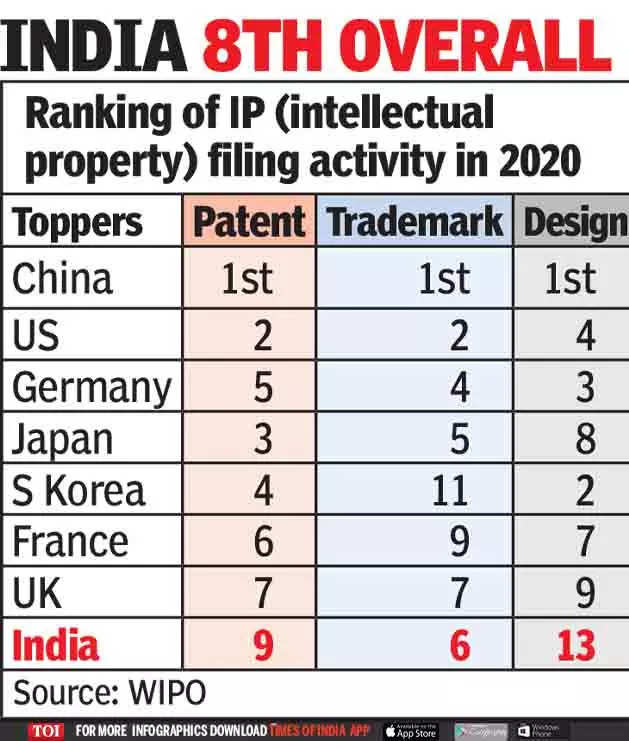 While China's IP office recorded the highest volume of trademark filing activity, India overtook Japan to become the fifth largest country for trademark filing activity.
The strong growth in global trademark filing activity is driven by robust growth in products and services related to advertising & business management, pharmaceuticals, surgical, medical & dental goods.
The share of filings related to pharmaceuticals increased from 4.1% in 2019 to 4.6% in 2020, while that of surgical, medical & dental goods increased from 1.5% to 2.3%, the data said. These trends were mirrored by certain countries that saw large increases of trademark filing activity.
For instance, India's 15.4% growth in trademark activity was driven by resident filings in pharmaceuticals.
Further, worldwide patent-filing activity returned to growth in 2020 after the first dip in a decade in 2019, due to a decline in China. In 2020, China's IP office reported growth again with 1.5 million patent applications, followed by the US, Japan, Republic of Korea and the European Patent Office. Together, these five offices accounted for 85.1% of the world total.
Among the top 10 offices, only three — China (6.9%), India (5.9%) and the Republic of Korea (3.6%) — recorded growth in applications in 2020. Germany (62,105), India (56,771) and the Russian Federation (34,984), among others, also featured among the top 10 offices.
Commenting on the particularly strong growth in trademark filings in 2020, WIPO director general Daren Tang said, "This shows how enterprises across the globe have brought new products and services to the market, as reflected by the double-digit growth in trademarks filing activity in 2020 despite the massive economic shock."
Interestingly, IP's centre of gravity has shifted to Asia now with an increasing number of applications from the region, the latest data from WIPO showed. While a decade ago, half of overall 10 IP applications were filed in Asia, last year this number was close to seven.